Customer Review
Windshield wipers reviews from customers, it is a good guide for you to choose your windshield wipers supplier, a good auto wiper supplier with premium quality and good service is important for your business growing.
Now, let's share our wiper blades reviews with you!
1. Russian customer tried many samples from China supplier (Skype)
"I must say, cleaning performance of your samples is one of the best we ever tested from China"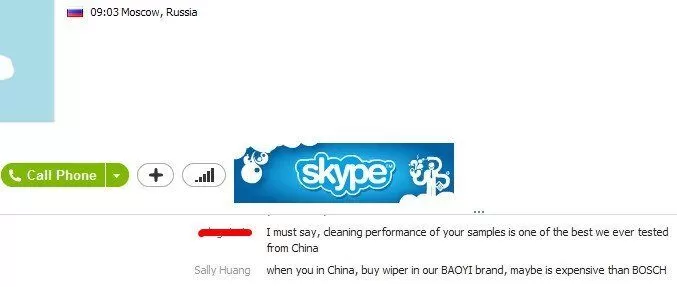 2. Iran customer dealing used cars and windshield parts reviews( Email)
"The quality is no match with BAOYI"

3. Saudi Arabia customer wholesaling all kinds of car accessories, but tried wiper blade project first time(Email)
"The wipers are going great and we will be doing a top up order shortly"

4. Indian customer specialized in auto parts distribution for Luxury cars for over 5 years, And have dealed with many Chinese factory. Want to change the supplier as they are not satisfied with the previous quality.
'I didnt expect this quality from China'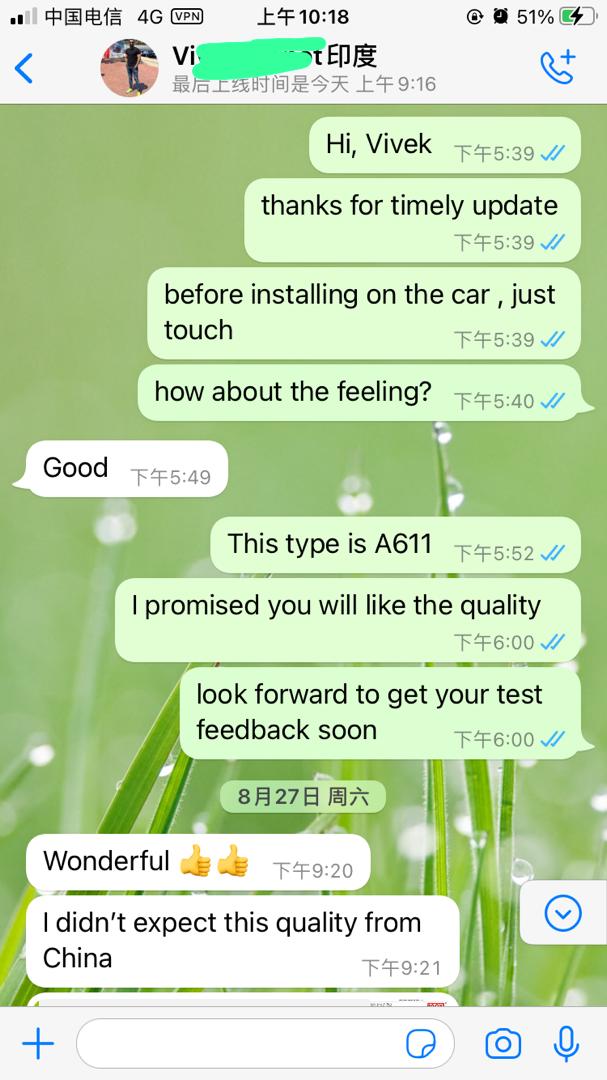 5. Korean customer participated in the 2016 Automechanika Shanghai and recognized our products very much. Then visited our factory together with us after the exhibition end.
" The wipers are best quality, we are very happy with them and your service"

6. Swiss customer placed a trial order, after received the products, She feedback the information.
"Thank you so much for the wipers they are awesome. I look forward to many more order being sent to you"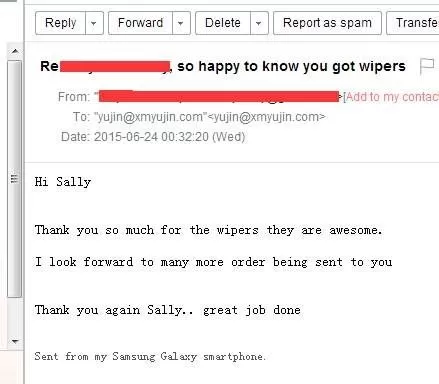 7. Spanish customer introduced by his friend and got the samples for test (Email)
" Your product is so good than others samples, and your price is better than other company.

8. Israel customer place an order to test the market and give us the review after 7 months(Skype)
"After 7 months I can say that we are very satisfied from your products."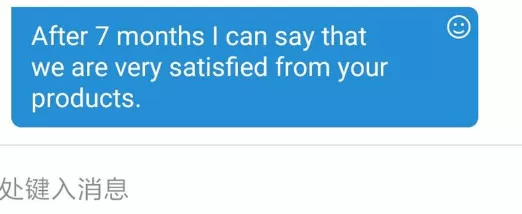 9. UAE (United Arab Emirates)customer bought from Bosch and started to cooperate with us and OEM with her own brand since 2014(Email)
'We have had an 165% increase in sales."

10. Belgian customers urged the order to be delivered, and the warehouse inventory was almost running out.
" Please advise the lead time, we need this order pretty quickly"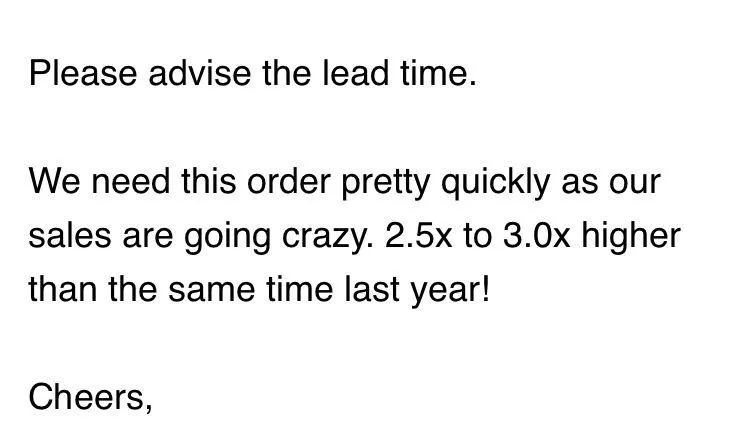 11. American customer placed the first order 3000 pcs, and placed another order 8600 pcs four months later.(Skype)
"End of this month another order, because of the great products"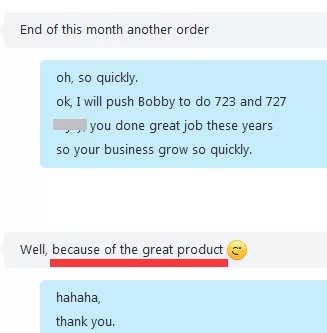 12. Netherland customer place the second order and reviewed after receive the goods (Alibaba)
"Good quality product, fulfilled the requirements of our company."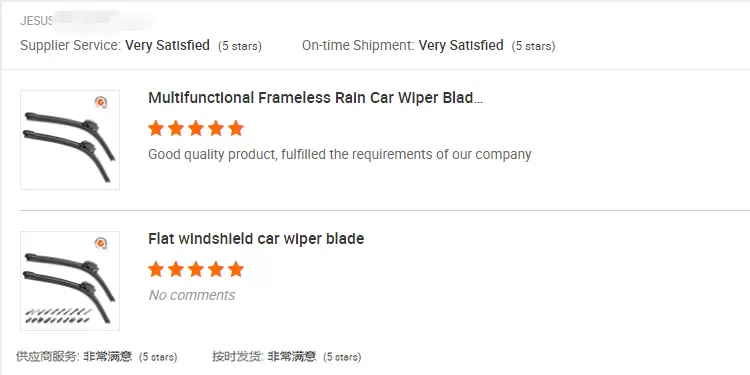 13. Australia customer buy from another supplier, and tried our products and compare ours with another supplier(Alibaba)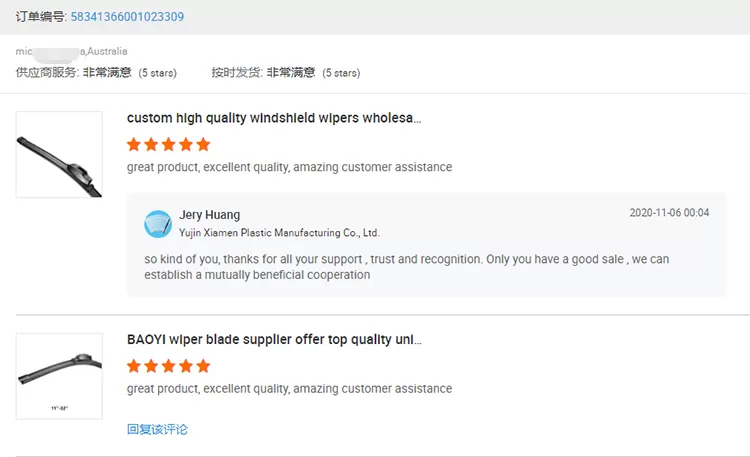 14. Ireland customer first time imported from other country and don't have the experience, we help him to solve all the problems (whatsapp)
"Thanks Jery, I couldn't have done it with all your help"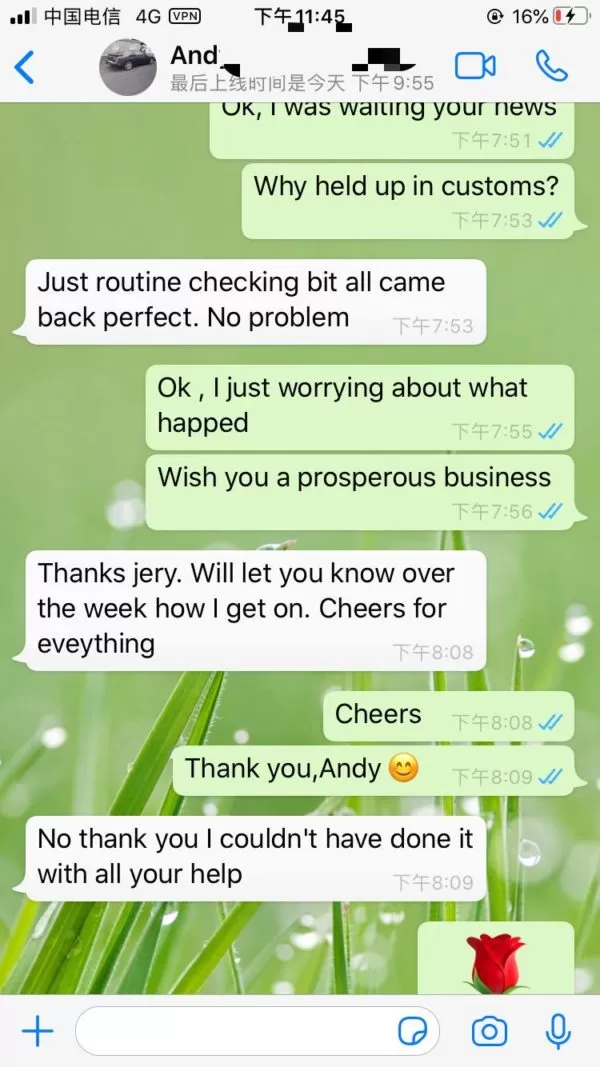 15. Ireland customer finished test and place the first trial order in 12 days afte receive the samples (Alibaba)
"Fantastic service.Fantastic product and Fantastic company. Can not recommend this company high enouth.Ask for Jery"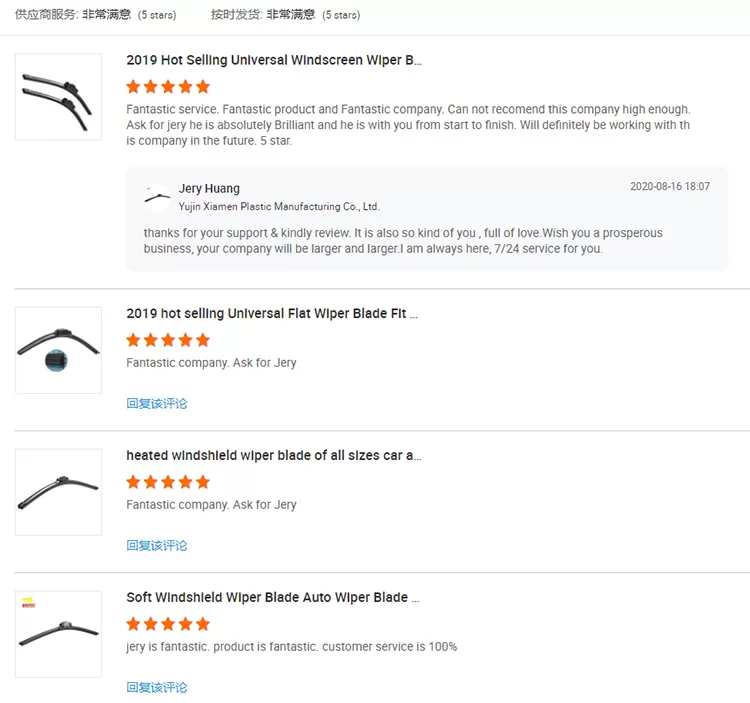 16. British customer dealed windhshield ,car glass business, to rich the products line and tried windshield wiper business, and found his windshield sold better(Email)
"Since we have been with your wiper we double the business."

17. France customer bought from Germany before and want to change the supplier(whatsapp)
" I got samples from 5 company and 3 silicon supplier, but yours are good quality and good customer relations."
18. Canadian customer have been in tyre business for 7 years and try car wiper project (Email)
"The wiper blade works great, very quiet."

19. Malaysia customer cooperated with us and achieved sales growth for three consecutive years
" You guys are the best wiper company by far"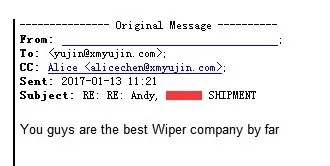 20. Greece customer buy from us and another supplier, but our products sales 4X last year(Skype)
" By the end of the year we should be 4X last year, I hope to have Baoyi exact fit instead of **"